S 2 ARCHITETTI's challenge for a new ethics of architecture
Article written by Giulia Guerra for Matrix4Design on January 24th, 2022
Translated by Francesca Gatti
Sustainable, ethical, unique and unrepeatable. Every project born from the pencil of Alessandro Stroligo and Lisa Santin corresponds to this description. After a long and emblazoned career in architectural design, they founded S 2 ARCHITETTI (STROLIGO SANTIN ARCHITETTI), a studio born halfway between Switzerland and Italy but, because of its origins, projected beyond any border. Its mission: to build buildings on a human scale, able to generate positive emotions and to tune in to the identity of a place, enhancing it without distorting it. This way, attention to the needs of man and the environment are combined with a contemporary style, steeped with artistic and literary inspirations, which shows how architecture can never be separated from culture. To learn more, we met with architect Alessandro Stroligo. Here's what he told us.
How did the experience of S 2 ARCHITETTI come about?
S 2 ARCHITETTI is an experience that stems from the will of my wife Lisa and me, both architects, to combine our professional knowledge, gained in different but complementary contexts. After our university studies in Venice with great masters such as Gino Valle, Aldo Rossi and Vittorio Gregotti, during which we met, we decided to move to London, a choice that I would define as decisive. Lisa started working in a large studio specializing in residential design while I landed in an important international design company. In 2003, they asked me to move to the new office in Milan where I had a management role for 10 years (2006-2016). This office has grown a lot in a short time (we went from a few architects to more than 50 in just five years) coming to work in over 20 countries and cultivating a clientele interested in a type of architecture that can marry English pragmatism to Italian creativity.
In 2016, however, we felt a strong need to change starting from Switzerland, a country where we both had little professional experience, although I am a Swiss citizen. It was a real process of personal and professional rebirth: Lisa and I wanted to treasure our previous experiences and imagine for the first time a common path, with new clients and on a smaller scale, returning to a more artisanal dimension of designing, more on a human scale.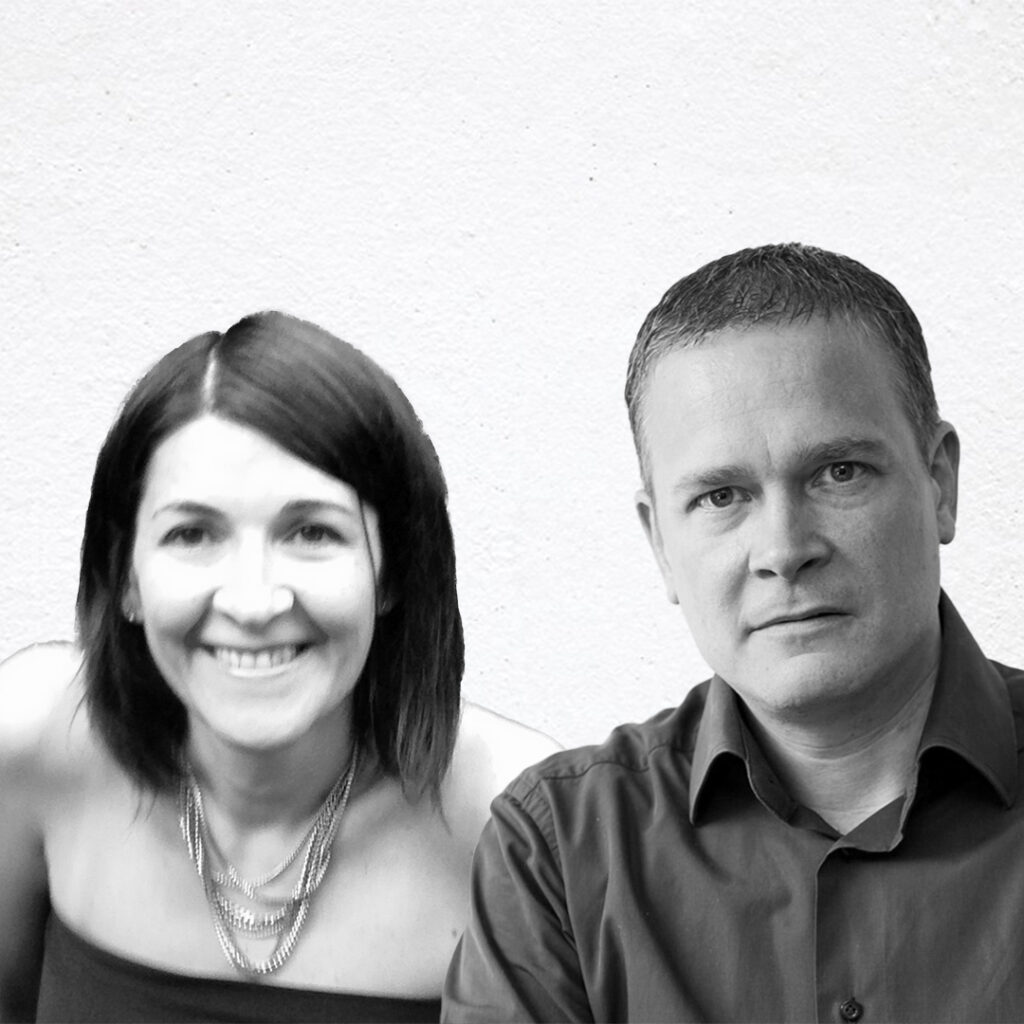 This is how S 2 ARCHITETTI was born, a studio formed by people who share the same ethics and passion, founded on the conviction that each project is unique and as such must be modeled on the client like a tailor-made dress. The quality of each project is what guide us, which we follow in every part.
Sustainability is one of the core values of your design vision. How do you interpret it?
Starting from the previous experiences of our background, which have helped shape our sober, refined and contemporary design style, in recent years we have chosen to embark on a path of personal and professional growth that makes the understanding of sustainability in a holistic way the basis of building. The idea is that it is necessary to generate and transmit positive energy, with one's own life and work, starting from the principles of epigenetics and quantum physics, according to which everything is energy. Now, if when we meet a person we perceive sensations, which can be positive or negative, the same is true for what buildings transmit to us. Those structures must be designed in an ethical way to create contexts of positivity.
To be realized, this multidisciplinary and authentically sustainable design vision, in a human and environmental sense, must be shared by all parties involved: from the investor to the designers, from the builders to the workers, thus producing a whole series of structural and economic advantages. The winning formula lies in the ability to create a community of shared values which, I must say, today exists and is growing rapidly. Moreover, working between Italy and Switzerland with this approach has allowed us to get in touch with many investors, who have embraced our way of seeing architecture and have offered us great opportunities.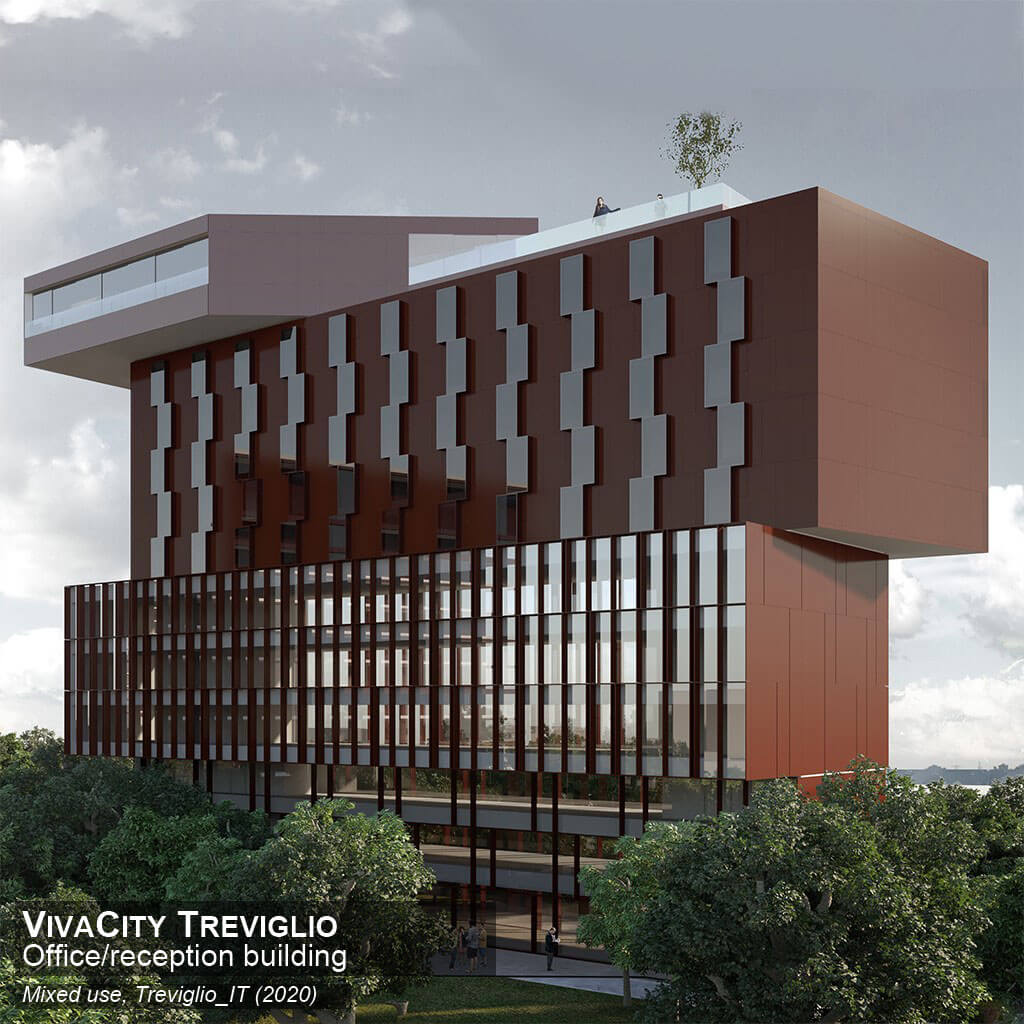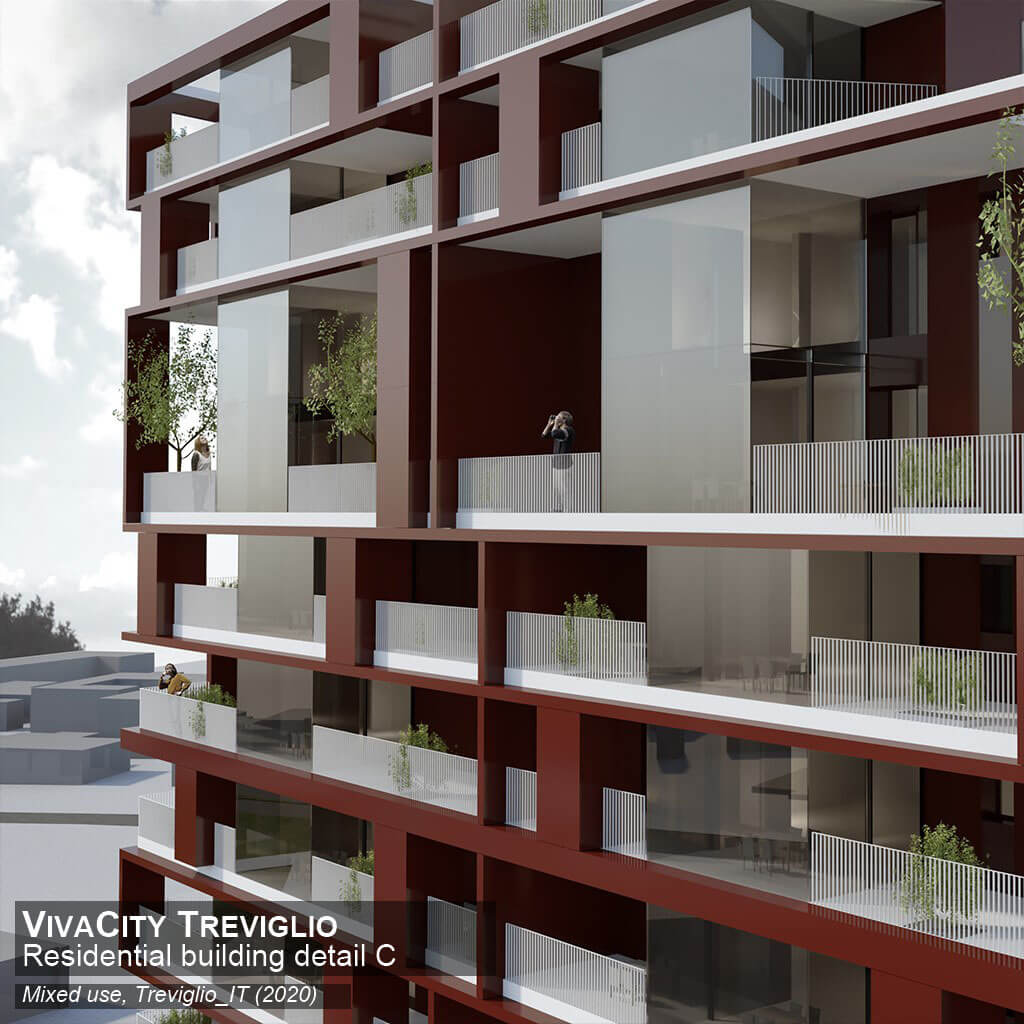 An example can be that of VivaCity – Ex Baslini, a very important project born due to a sharing of values and objectives with the client and that will be realized in Treviglio. It will be taking advantage of the location of the lot close to the station by creating a rapid connection with the center of Milan, which can be reached in just 25 minutes. The project, which involves a previously disused and abandoned area, provides 550 new apartments, with a business center, a hotel, and a large park. This architectural plan is based on the concept of an innovative Smart City, with a myriad of services designed for residents and the community. Another very important intervention will be in the Rogoredo area of Milan, where we are working with a client who is already very active in the creation of high-performance homes from the energy point of view.
Is Italy ready for such a design approach?
Although, for the moment, only a minority is working in this way, we are convinced that the pandemic has led to a great collective reflection on the way of living and building: stopping has helped us understand that we need a change in a more ethical direction, aimed at designing in favor of people, society, the Planet. The architect has a great power, that of modifying people's lives, of influencing them for years and years, and this is a great responsibility. Today we don't necessarily care about working on a large scale, it's not the cubic meters that count. We care about building in an ethical and conscious way, involving all the operators in the field in a positive and virtuous mechanism that completely changes the view of what is done.
A visual that in your case also includes art, music, and literature, among the main sources of inspiration for your work, because "everything is connected." What does that mean concretely?
It's an idea that always involves the concept of personalization and a direct relationship with the client. When the projects are important, we like to start from an artistic and cultural reference from which we develop the storytelling of the project.
This is what happened in the case of the design of a residential complex in Lugano, of which facade concept is inspired by a 1962 work by Ad Reinhardt, that essentially represents black monochromatic squares. The composition of the facade works with three materials: a large black kerlite, the glass windows also slightly tinted black and the blinds of the loggias are made by black technical fabric. The complex occupies one of the last remaining building lots in the center of Lugano, located behind the LAC, the museum of modern art of the city, and is characterized by monolithic angular elements cut at 45 degrees, large fixed glass windows and opaque windows flush with the facade for ventilation. Great research on technologies and materials has led us to choose for the entrance areas the technique of cold pressing, useful to create a see-through effect that plays on the contrast of the different reflection of light on ceramic surfaces.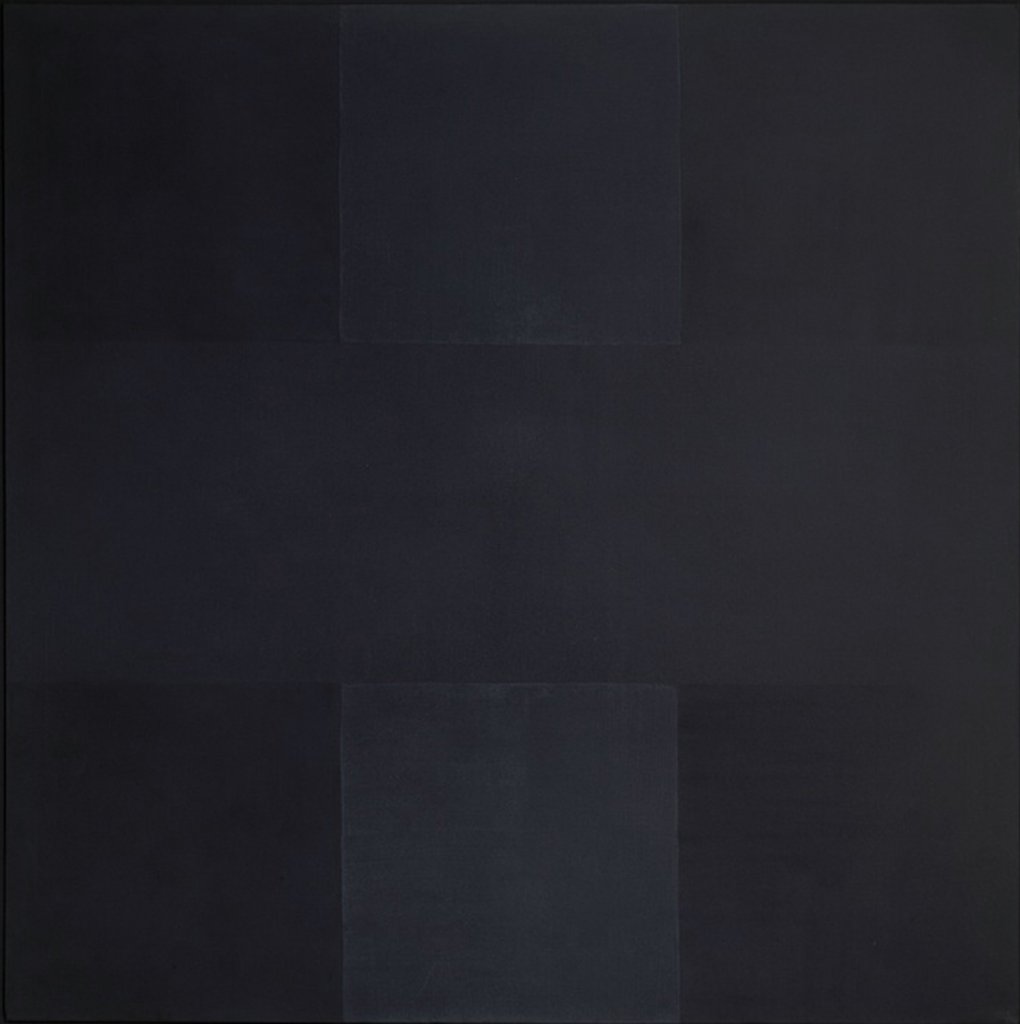 The dark masses are then lightened thanks to the presence of exposed slabs and the consequent faceted effect, clearly visible from the bottom to the top. The complex will host 30/35 apartments, for a total of 5000 square meters, further enhanced by the services and cafe on the ground floor and the private infinity pool overlooking the lake located on the top floor.
However, your work also develops on a much larger scale.
Yes, and this is demonstrated by two very important projects: the Ex Cetem in Lodi and VivaCity – Ex Baslini in Treviglio, mentioned earlier.
As far as the concept for the Ex Cetem is concerned (a project that was not realized but that represented a very important step for our studio), we worked on an area of 35,000 square meters, close to the center of Lodi and well connected to Milan. The starting point was once again a former industrial area, where electrical systems were produced. In particular, the pre-existing structure had vertically staggered caps on the roof to create a series of skylights, a very interesting complex from an architectural point of view. We then combined the suggestion given by the client, who had in mind a very impactful project of the level of City Life in Milan, with the real conditions of the area, which allowed the maximum construction of 14 floors above ground. The idea of creating buildings on a human scale has here found a clear artistic reference in the work The Seven Heavenly Palaces by Anselm Kiefer, with the overlapping of various urban villas that mark the verticality and slenderness of the buildings.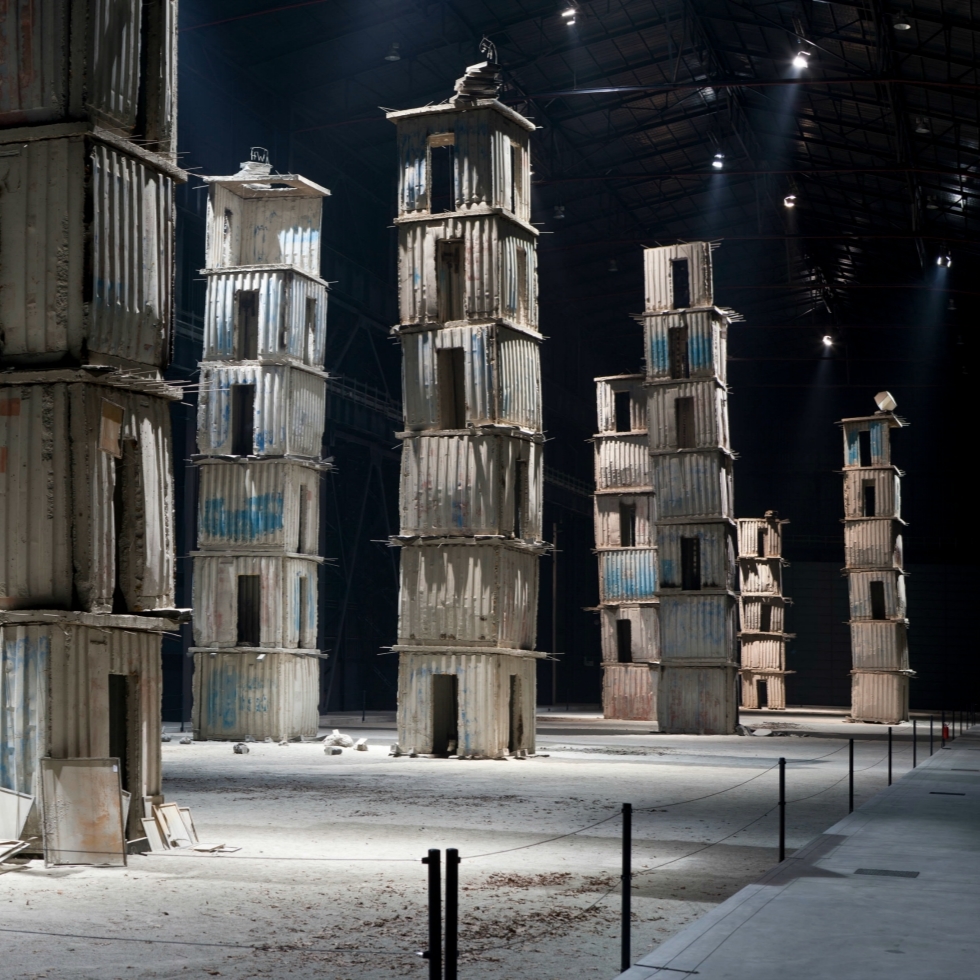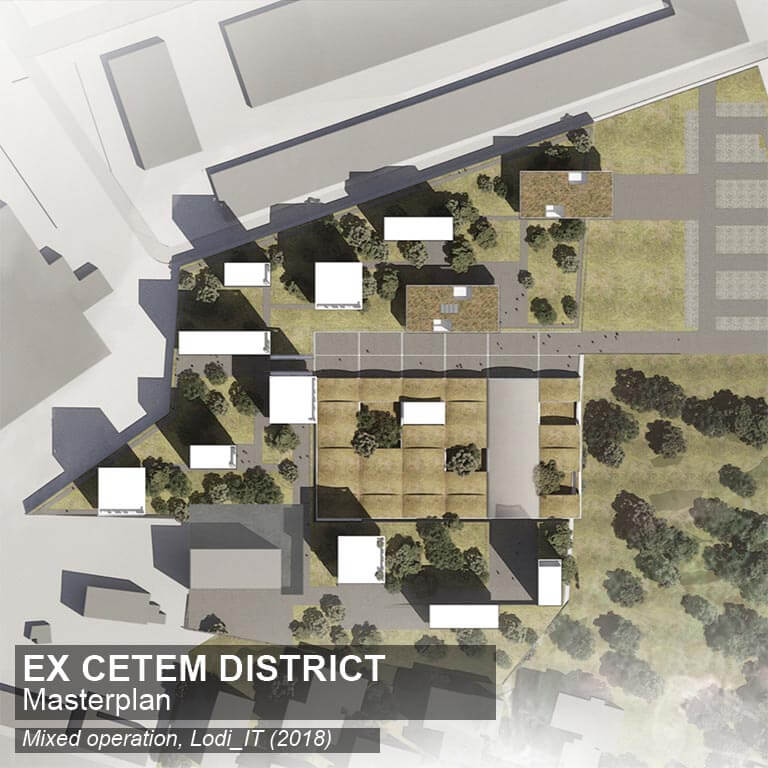 Since there is a problem of the river Adda overflowing, the entire structure is built above ground, while maintaining a difference in level between the walking and driveway part and the area that is aligned with the height of the historic center. The dwellings are organized around a square overlooked by commercial activities. In addition, there is a roof garden in continuity with the city center, with the inclusion of an extensive green area that covers the vaults generated by the caps of the original industrial structure.
And going back to the VivaCity project, how did you work in that case?
As for VivaCity – Ex Baslini, a project that covers an area of over 85,000 square meters, we started once again from an artistic suggestion, specifically a work by Richard Serra, to work on a project even more personalized and completely dedicated to the client, built together with him, with presentation texts designed and created appropriately to convey the spirit of the intervention.
Everything stems from an element of industrial archeology preserved as a historical memory of the place, the former pyrite furnace, 13 and a half meters high, like a four-story apartment building. It was the true generating element at the conceptual and construction level.
We designed a series of freely accessible bases, of varying heights, where stores, restaurants and services for the residences are located. The residential buildings rest on them, taking from Serra's work the concept of two overlapping volumes. The color is another decisive aspect, taking up the image of the roofs of Treviglio and once again the bricks of the former pyrite furnace, through the bright red brick shade.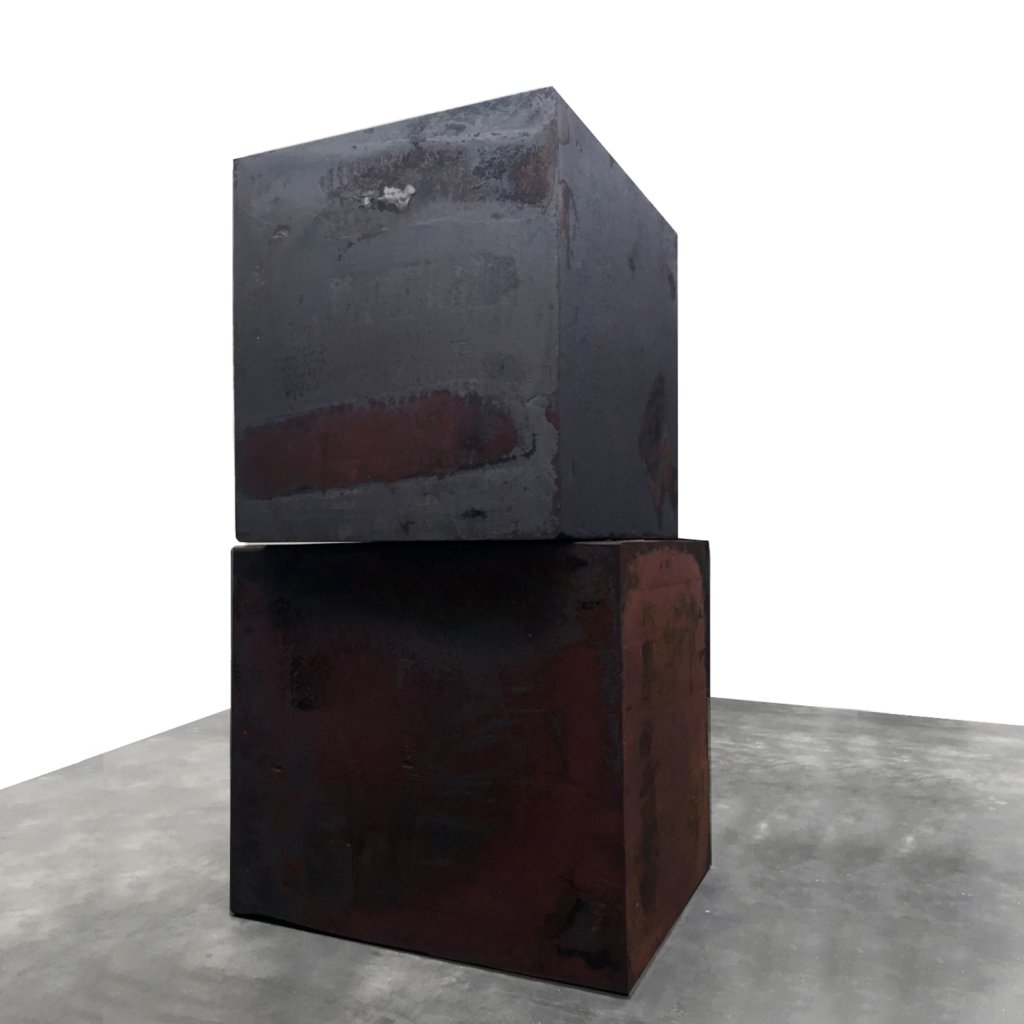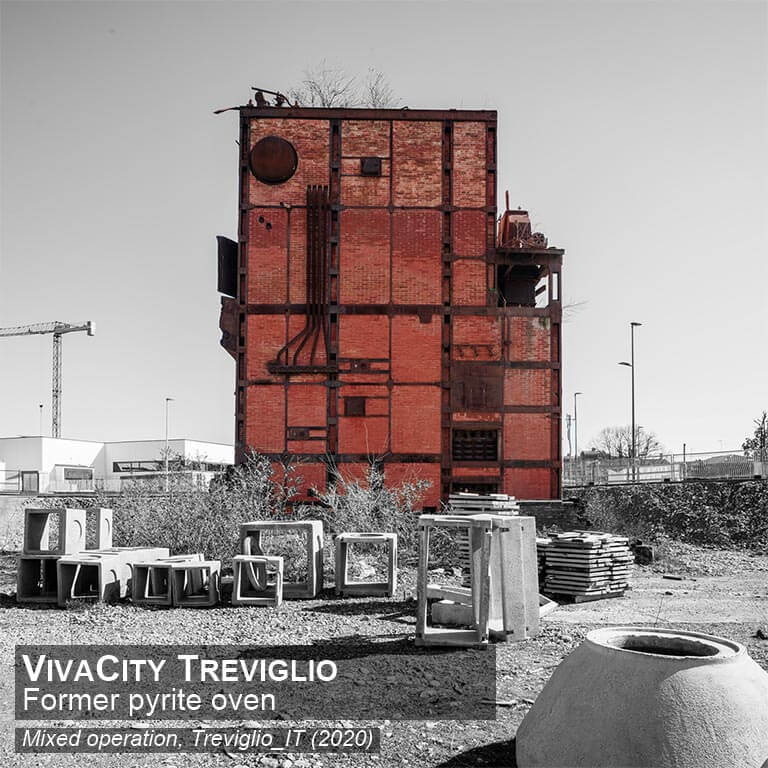 Although this project was developed before the Covid emergency, in a forward-looking way we have equipped the complex with terraces and spaces to work from home: we are talking about services such as a co-working community area and electric bicycles provided for all residents.
The entire masterplan was thought out in every detail. An important landscape architect and a light designer, both of high professional profile, were involved from the beginning of the design process. From a purely architectural point of view, our goal was to lighten the facades, choosing to reduce the size of the stringcourses and creating glass boxes that can be completely opened sideways to give continuity between inside and outside.
Each apartment is designed as if it were an independent villa with its own closed and open spaces. In the apartments on the top floors there are also swimming pools, so we can talk about a residential project of very high range, although with a market value much more accessible than, for example, the values that can be found in Milan.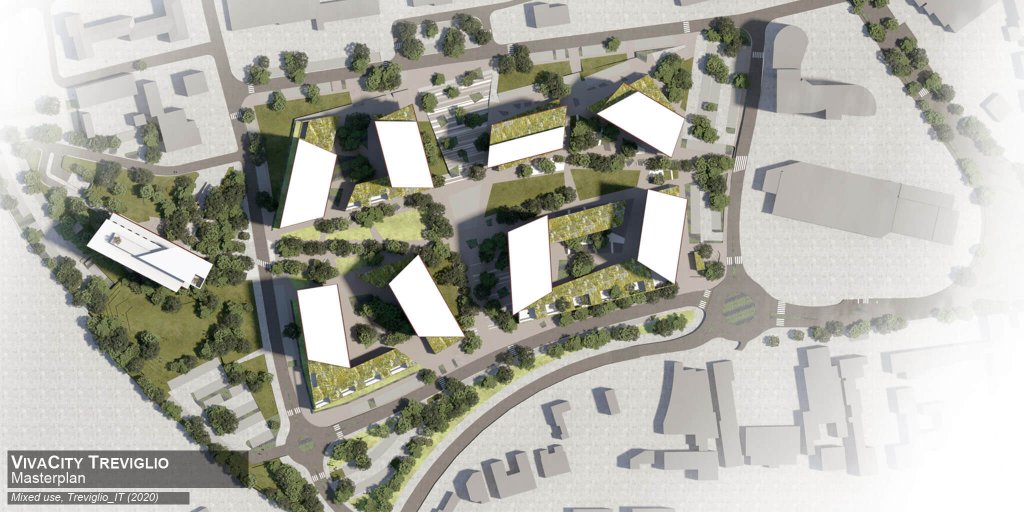 Big projects, then, but also smaller-scale interventions. You like change, or do you not?
Let's say that we like to work on different scales, urban but not only, on very different projects; in this we have an eclectic approach, even if our style and modus operandi remain recognizable. Speaking of diversification, I would like to mention the work we are doing on the recovery of a farmhouse in Codogno. This is a major social project desired by the community which, once completed, will house a hostel, a sensory experimentation center, a bakery, a dairy and will be intended for children with disabilities. We are very proud of it.
Differentiate: is this your trump card?
Differentiating is important, both in terms of type and geography. We're working in Switzerland, in Italy, and soon we'll be going to Barcelona. All different contexts, which challenge us to come up with new and innovative concepts. However, I believe that our trump card remains the ability to truly custom design, to create buildings born from a true synergy, from a direct and authentic dialogue with the client and, above all, the commitment to always respect the context, its history and the people who live or will live in our spaces.